Our technology division was launched to respond to the increasingly complex IT operating needs of the commercial and retail sectors.
In almost every business, IT developments are driving new and improved ways to store, transfer, transact and manage data and resources.
Our technology team consists of some of the most experienced and knowledgeable experts in the IT infrastructure and networking sector.
Operating worldwide our team has supported UK and Global clients in the design and construction of new data centres, call centres, office moves, major IT network infrastructure works and essential upgrades.
The success of our projects is driven by a commitment to applying an informed and holistic approach to manging, designing and coordinating every element of a complex IT project. Including;
A Building structure and fabric design driven by the IT infrastructure and equipment operating requirements
Power resilience, diversity and location to power networks
Risk assessments for operational resilience
Fire and security integrity
Sustainable and operationally efficient energy solutions in line with the latest design and legislative standards
Economic in-operation maintenance models
Future proofing the connectivity components to allow for emerging technologies including 40/100G, 400G, 1000G
Project Sectors
The sectors we work in include;
Datacentre Developers/Operators
Banking & Insurance
Retail
Our Services
Project, Design and Programme Management
Management of all project types including new build, fit outs, conversions, refurbishments
Project Cost Management and Procurement
Construction Management and Contracting
Investment Feasibility Desk Top Studies
The Existing Estate & Operational Standards
Design Standards Development
Standards Compliance Auditing
Room Integrity Testing
Thermal Imaging
CFD Modelling
Business Continuity Planning (BCP) & Disaster Recovery strategy (DR)
Maintenance Service Provision
Energy Efficiency Auditing
Staff skills and competency assessment and training
Energy Efficiency Auditing
As registered auditors for the BCS International CEEDA programme, we can conduct Energy Efficiency audits at your existing facility, or offer Energy Efficiency consultancy for new builds.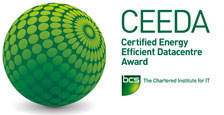 CEEDA is an International assessment based award programme offering three levels and can be achieved by organisations with data centre facilities anywhere in the world.
CEEDA provides externally verifiable evidence that an organisation is implementing operational improvements, design improvements and evolving new measures that maximise energy efficiency.